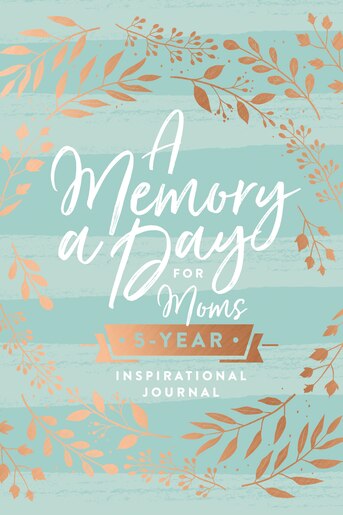 A 5-Year Inspirational Journal
I love these kinds of books/journals. This is more than just recording memories, this book makes you stop and think and reflect too. You don't just write down a memory, though I'm sure you could, you are asked a question and each year for five years you answer that same question on that same date. It's interesting to see how your answers change from year to year and also how they stay the same, depending on the question. I am currently doing a book like this that's just general questions and I love it. I am in year three now and it is so fun to read back over the last two years and see what I said. Some things stay very similar year after year and some things change drastically. It all depends on where you are in life and also on your mood.
I am not sure if I will do this book myself or gift it for a friend, but I'm leaning toward keeping it. I think it would be so interesting for my children years down the road to read my thoughts on different things and how my goals and ideas changed as they got older.
The one thing I really like about this book is that not only does it have a question to answer, at the bottom of the page it has a Bible verse that goes along with the question and also a couple sentence prayer. This all ties together and I think that adds extra beauty to the book.
The book is also very pretty. In a soft green, I'd probably say it's a mint green or seafoam or some such color. Of course, someone else may disagree with my color name entirely, but it really doesn't matter, it's a green of some sort with gold leaves and banner and white lettering. It also has a ribbon marker, which is such a good idea in books like this.
A few examples of questions are:
"How has your child shown kindness this week?"
"What's the newest parenting trend in the media this week?"
"A tradition I'd like to start for Mother's Day is:"
"What is your child's favorite treat?"
So, as you can see, the questions are all across the board in the mothering department.
A full example, including verse and prayer is: "Who's been a big encouragement to you lately? Encourage each other and build each other up, just as you are already doing. I Thessalonians 5:11 NLT God, please let every word that comes from my mouth today be one that encourages and builds up my child."
This would be an excellent gift for the new mom, for the mom of young toddlers, or even for yourself, if you're a mom, and are wanting a place to write down thoughts and funny things your children say. I'm quite sure there would be room most days to add those to the days lines.
I received this from Book Look Bloggers and was not required to write a positive review.