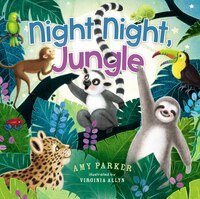 Illustrated by Virginia Allyn
A lovely board book with a slightly padded front cover, about 8x8 inches, Night Night Jungle is a rhyming book that talks about telling the jungle animals good night.
This would make a great addition to a baby/toddler book collection, though my preschooler also still really likes it.
I love rhyming books and I have at least one other book by Amy and just really liked it, which is why I picked this one this time. It didn't disappoint.
It starts with the sun going down and the animals getting ready to go to bed. We bid good night to lemurs, jaguars, toucans, chameleons, monkeys, parrots, frogs, and sloths. Each page shows the animal featured on the next page so you have a hint of what is coming. At the end, the moon is rising and God's creatures go to sleep. It talks of how God loves us, both at home and in the jungle, and then ends with "night night God."
"It's time for the tadpoles
To rest their sleepy heads;
They'll take a ride on Daddy's back
Then drop right into bed.
Night night, frogs."
The illustrations are cute and colorful, fairly real to life, but not quite, if that makes any sense. You can tell by the picture of the front cover what they look like. It's nicely done though. I like them.
I received this book from Book Look Bloggers and was not required to write a positive review.