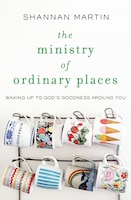 Waking up to God's Goodness Around You
"Ordinary places and average people remind me of everything I'm pretending not to be."
But isn't most of life made up of ordinary moments? And that is what Shannan points out. Called to leave her dream farmhouse in the country to move to the city on the wrong side of the tracks, (You can read more of that story in her first book, Falling Free) Shannan and her husband Cory are looking to reach out to the people right there, their neighbors.
It's not about success in the big things, it's about faithfulness in the little things, in the mundane, in seeing what's around them and reaching out. Cory is a chaplain at the jail and so they see the brokenness of the inmates, but they also see the difficulty that is the life of the incarcerated set free. They see how hard it is for them to find jobs, to find housing, to find someone who believes in them, to live free from addiction, to build or restore relationships. And they strive to be there for these people, to pray for them, to offer them a meal, a ride, whatever they need.
This book challenges me to see God in the ordinary moments of life, to see God in the "interruptions" of a normal day. I don't live in the city, I don't have lots of close neighbors, but that doesn't excuse me from reaching out and trying to make a difference.
"The health and well-being of our communities depend on our willingness to taste sadness with joy and pain along with redemption." So very true.
I really enjoyed this book and think there is much to be learned on its pages.
I received this book from Book Look Bloggers and was not required to leave a positive review.