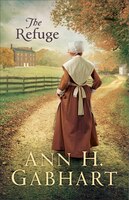 Ann has written a few books on the Shaker community and this is her latest one. I don't know much about who the Shakers were and so I found this very interesting. I can't vouch for the accuracy of the descriptions though I know the whole celibate lifestyle was definitely true, which I found very intriguing as to how they thought their community would continue to grow if there were no more children born. But that's beside the point, I guess.
Into this community, Darcie and Walter had come for refuge from the cholera plague. They, of course, weren't going to stay forever, they just wanted safety. Well, safety is an illusion, as Darcie discovered when her husband was killed. This is not a spoiler, it's in the first paragraph. And so Darcie feels stuck now, with no way to support herself if she leaves. She's having a baby and Shaker tradition is that all are sisters and brothers and so Darcie would be unable to raise her baby. The baby would go to the Children's House and be raised by other sisters. How does this all work out? That's why you read the book--to find out.
This is the tiny spoiler, if you want to call it that, that I will give. Babies and love have a way of softening hearts as this story reveals. And that is a good reminder we all need--the reminder of love. When Darcie chose to pray for and love an unlovable little girl, it made all the difference in this girl's life.
There is also the widower with a daughter that is involved in the story as well, but the romantic factor is pretty subtle I think.
I enjoyed the story for the story. And my takeaway from this book, as I said earlier, is that love and prayers can make a difference in people's lives. I need to remember that when I want to lash out that a little love could make all the difference.
I received this book from Revell and was not required to write a positive review.